Communication equipment
FREE SPACE OPTICS EQUIPMENT
FSO ARTOLINK - high-tech product designed specialists, who have a much years experience of work in the field of aerospace technology laser communications. Main technical decisions marketed in equipment, are protected five patents. The acknowledgement unique development and its high working possibilities serves the multiple awards and reviews of users.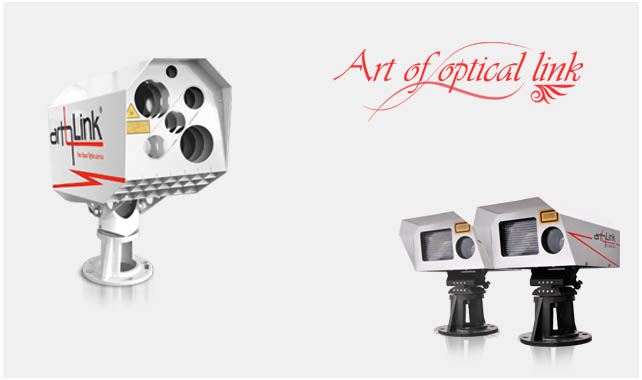 Atmospheric optical link "Artolink" – laser equipment of innovative FSO-technology.
Purpose: providing with the wireless high-speed protected communication links
Doesn't require licensing!
Quality of product is checked in accordance with standard quality at military-industrial complex of Russia.
FSO equipment ARTOLINK:
License-Free operation - no need frequency licenses on use the free space optics equipment Artolink
Quality of Free Space Optics equipment Artolink confirms the long-successful experience in the harsh Russian climate, with temperatures from -63 to +50 Celsium degrees
Excellent Price/Performance - You can have complete set of Free Space Optics equipment Artolink which includes all necessities for organization communication link on distances from 250m up to 7000m and have built-in user systems: auto-tracking, backup channel, SNMP and IP-monitoring, optics aerodynamic protection, protection from solar radiation, automatic transmitters power control, narrow beams (0,55 mrad) - high security.
Installation of communication line from 1 hour.
Built-in systems of targeting and aiming.
Built-in module of information indicators on optical blocks.
Guaranteed stock volumes, 2 years warranty period.