IOP tonometer diaton
The device is intended for true IOP (Ро) measurement through the eyelid in sclera area.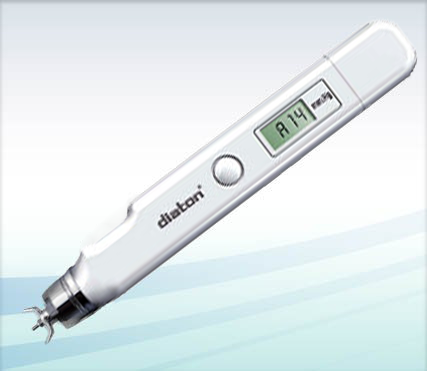 Advantages
User-friendly
No contact directly with the eyeball
The test is done through the upper eyelid
No risk of infection during the test
No anesthesia drops and staining agents
Comfortable for the patient
IOP measuring in immobilized patients and in children
Only disinfection is required
Saves time for medical staff
Diaton tonometer is highly appreciated by the doctors of leading clinics abroad and is supplied in more than 30 countries of the world including:
USA
Germany
Italy
Finland
South Africa
Canada
Spain
Sweden
Poland
India
Mexico
Diaton Tonometer is intended for use by Inpatient & Outpatient Clinics such as
Hospitals,
Emergency Rooms,
Nursing & Elderly Homes,
General & Specialty Practitioners as well as Ophthalmologists and Optometrists.
Unique Transpalpebral Non-corneal Scleral Diaton-Tonometry
Availability of use when patients having different cornea pathology (even after keratoplastics and keratoprosthesis);
No need to adjust with pachymetry for IOP values correction even in patients after laser refractive correction of the eyesight;
Ophthalmotone day monitoring with diaton without losing quality of the consecutive measurements. The importance of this monitoring is unquestionable for progress monitoring and detecting pathology advancement, during selection of adequate hypo-tensive therapy;
Availability of quantitative digital IOP evaluation in patients having severe eye pathology with its anatomy change;
Easy use in patients with contact correction (lenses are not taken out), contact lenses do not need to be removed for accurate reading;
Diaton allows, without damage to the patient, to determine IOP and to control medications which can lead to possible ocular hypertension, as their secondary effect.
IOP measurement with diaton can be realized the patient being in sitting or reclining position

The measurement is realized through the upper eyelid and over the sclera, not the cornea

IOP measurements are carried out either by ophthalmologists, nurses or other assisting medical technicians